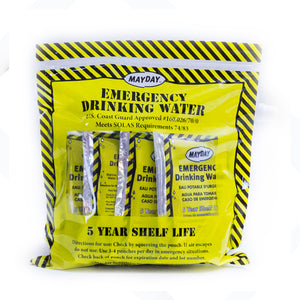 The drinking container is a zip lock open and close with a spout that has a cap that twists off and on. To use, open the drinking container from the top of the bag (zip lock). Take out the (6) individual water pouches. Open each pouch and pour the water into the drinking container and close the zip lock back up. When ready to use, twist off the waterspout cap and pour the water. When finished, place the cap back on and twist it securely to prevent any water from leaking.
Maximum storage temperature 149 degrees (°F) and can be drunk without preparation
The water pouches can also be stored in 32°F , 0°C (freezing point of water)
Manufacturer's bottle license with the State of California is #77954. The water is US Coast Guard Approved and has a 5 year shelf life
Emergency Drinking Water pouches are manufactured in Vista, CA.